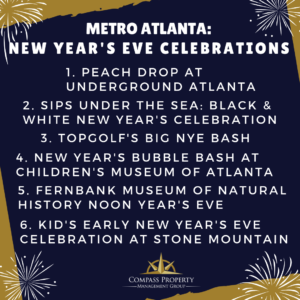 Live in the Metro Atlanta area and still don't have certain plans for ringing in the new year? We've got you. We've curated a list of some fun for an individual, a couple, a group, or a family!
Here is what we've found to help you bring in 2019:
For individuals/couples/a group
A classic. This has been around since 1989 where you can celebrate the change into a new year by watching the big Georgia peach drop as you countdown! This doesn't cost you anything either.
Event time: 6:00 p.m. – midnight
This event is held at the Georgia Aquarium. Who doesn't love bringing in the new year in one of Atlanta's favorites! This is after hour event so no kids there. The dress code is a black-and-white cocktail. In addition, it is an event that will help fundraise for research and conservation programs. So sip and help save! Join them as you toast along with all the whale sharks, jellyfish, and others.
Event time: 8:30 p.m. – 1:00 a.m.
Topgolf (Midtown and Alpharetta locations)
There's going to be live entertainment. You can reserve a bay or a VIP bay. With this comes unlimited play and party favors. Sounds like a lasting good time!
Event time: 9:00 p.m. – 1:00 a.m.
Family-friendly events
New Year's Bubble Bash at the Children's Museum of Atlanta
Celebrate early so your kiddos aren't out all night. Lots of discovery things to do. There will be a dance party, a DJ, and bubble wrap fireworks. Also, two countdowns!
Event time: Session 1 is from 10:00 a.m. – 12:30 p.m. Session 2 is from 1:30 p.m. – 4:00 p.m.
Fernbank Museum of Natural History Noon Year's Eve
Another place perfect for the family! Your kids get to explore and discover things while having fun with the drop countdown, music, party favors, and more! At noon, thousands of balloons are going to fall over the dinosaurs.
Event time: 9:00 a.m. – 12:30 p.m.
Kid's Early New Year's Eve Celebration at Stone Mountain Park
Another early celebration that includes a magical snowfall and early 2019 countdown. There will also be costumed characters, music, and dance along. The countdown is at 9 p.m.
Event time: 2:00 p.m. – 9:00 p.m.
No matter what, there are tons to do in Metro Atlanta on New Year's Eve. Check out these sites for more to do: AJC, Atlanta Magazine, Know Atlanta, WSB-TV