We are keeping up with the global, national, and local effects of COVID-19.
We have curated resources and information into one place to help serve our residents.
News You Can Use
Our "News You Can Use" series features various topics that will provide information and resources regarding the specific topic. We will be updating and adding to this series.
We Provide Self-Showing Options for Your Convenience
No-Contact Showings:
We want you to stay safe while searching for a new home!
Earth Day Should
Be Every Day
April 22, 2021 is Earth Day. Protecting our Earth means thinking about the future. We need to be conscious about taking care of our home. It's better to help than to be one that harms, even if it's small steps to being more eco-friendly, it's a positive change.
As a property investor or resident, you can research and adopt small changes in your home:
Energy-efficient light bulbs

Good insulation

Compost bin
And more!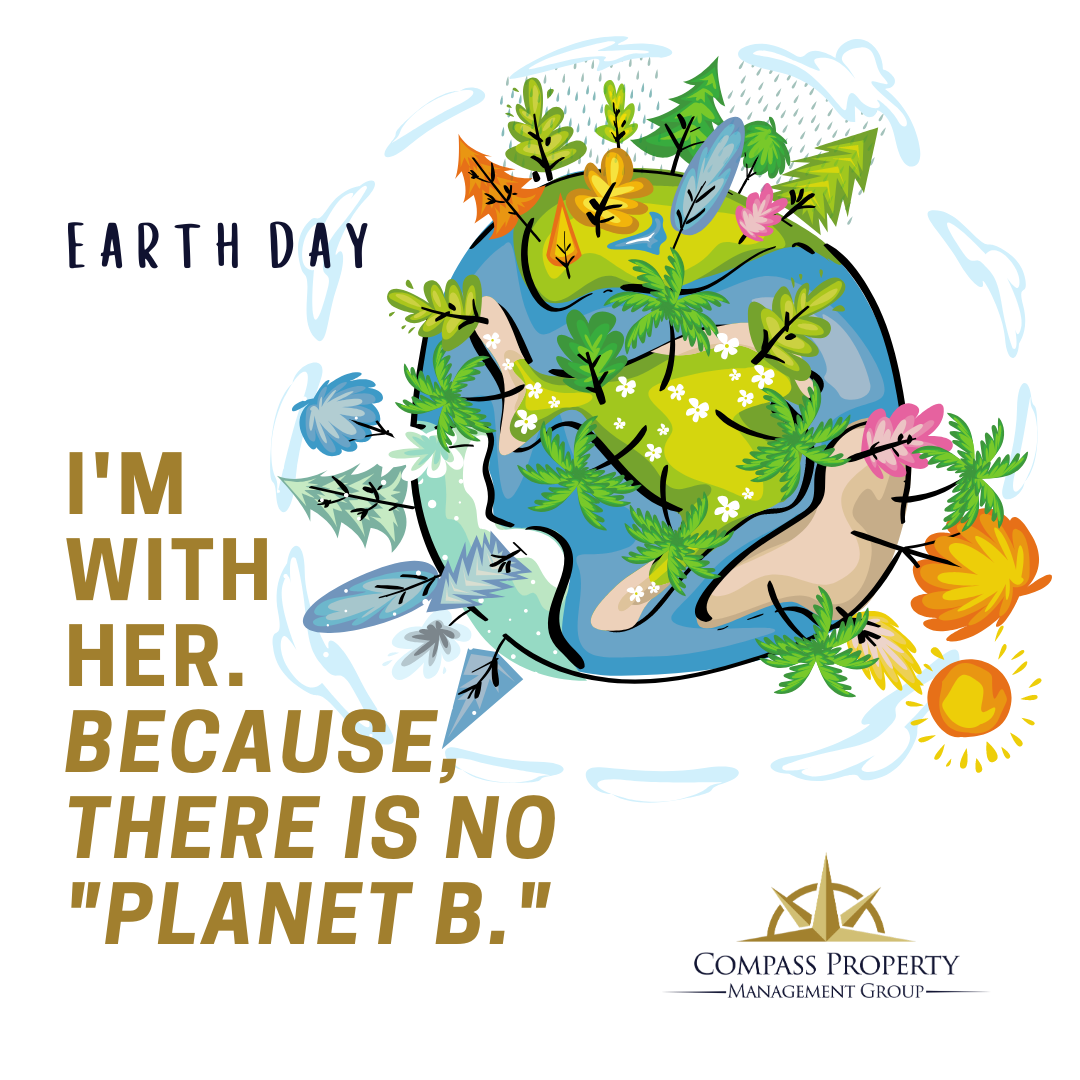 Foods to Boost Your Immune System


Leading a healthy lifestyle is important in keeping your body functioning at full capacity, a must during the current COVID-19 pandemic. Plenty of sleep, regular exercise, managing stress, drinking plenty of fluids and eating well will all help you fight off disease.
To boost your body's ability to keep you healthy, eat a varied diet and make sure to regularly include a good sampling of the following foods.
Berries:
Elderberry and acai berry are loaded with antioxidants and may help fight inflammation. Blueberries provide potassium, folate, vitamins C and B6 and other heart health boosters.
Mushrooms:
button mushrooms provide selenium, riboflavin and niacin, all boosting the immune system.
Citrus fruits:
Such as oranges, lemons, and tangerines, provide vitamin C, an important immune booster that the body cannot produce or retain. It is thought that Vitamin C increases white blood cells which are key to fighting infections.
Red peppers:
Provide vitamin C, in fact, they provide twice as much as citrus fruits as well as beta carotene. They are great for boosting your immune system as well as strengthening your eyes and keeping your skin healthy.
Watermelon:
Has an antioxidant called glutathione with helps the body fight infection.
Broccoli:
Preferably raw or slightly cooked, it provides A, C and E vitamins and fiber. It is also high in anti-oxidants. This is one of the superfoods.
Spinach:
Like Broccoli, spinach is a superfood rich in antioxidants and beta carotene which boosts the immune system's ability to fight infection. It also provides folate which helps repair DNA and produce new cells. Eat lightly cooked to enhance its vitamin A and releases other nutrients.
Garlic:
A great infection fighter, particularly bacteria, viruses, and fungi making it helpful with skin infections. It is also believed to help lower blood pressure and promote artery health.
Carrots and Sweet Potatoes:
Great sources of beta carotene that converts to vitamin A, an important vitamin that cleans up damaging free radicals.
Chicken Soup:
Chicken soup, that old remedy, is on the list for good reason. It can help ease flu symptoms. Make this with bone broth to pack in extra nutrition!
Ginger:
Helps lower inflammation and decrease nausea. It also decreases pain and helps lowers cholesterol.
Turmeric:
A natural anti-inflammatory great for rheumatoid arthritis and osteoarthritis.
Plain yogurt:
has active cultures, stimulates your immune system and boosts the body's disease-fighting ability. The probiotics may ease cold symptoms. Look for added vitamin D.
Nuts:
(especially almonds) provide vitamin E and healthy fats that allow the body to absorb E. Vitamin E is important in strengthening the immune system.
Green tea:
is loaded with flavonoids, an antioxidant and enhances immune function. It also provides L-theanine, an amino acid that assists T-cells in fighting germs.
It is important to keep your body functioning at its peak level while the devastating coronavirus makes its way through our communities. But make sure to vary the above options and not overload your system. Everything in moderation.
Stay safe, stay healthy, and stay home!
Helping Children Cope During The Pandemic


Life as we knew it changed dramatically due to the COVID-19 epidemic. While adults have life experience and can navigate the current situation and somewhat manage their stress levels, children do not have those resources. Depending on their age, they may understand a little or a lot about what is going on. What they do know is that their lives have changed, they no longer go to school, cannot see grandparents, and cannot even go play with friends. Helping them navigate this overwhelming life change is vital to their overall health.
Start by determining what they already know. Ask them open-ended questions particular to their age group. Find out what is scaring them. This will help you clarify any inaccuracies and misinformation, as well as give age-specific information and comfort.
Calmly answer the questions they ask, but don't overload them with information. They will come back to you for clarification and more information when they are ready. Make sure to leave that door open, letting them know you will answer any questions they have. If you present the information calmly, you will help them manage their fears. As questions come up, clarify what the family, the community, the health professionals and the government are doing to take care of people.
Give them space to experience their feelings and let them know it is okay to be sad, or scared. Then help them manage those feelings by recognizing that this too shall pass.
Help them establish a sense of control over their lives. Teach them ways to strengthen their bodies and avoid viruses through hand-washing, disinfecting, social distancing, physical activity and eating healthy. Let them know what you, as a family, are doing to protect yourselves. Give them strategies for reaching out to those they miss, by using Zoom meetings or FaceTime to connect with family and friends.
Have them come up with ways to help others, reaching out to lonely elderly, or thanking health workers.
Manage their information overload. Reduce the news noise in your household while the children are within hearing distance. Too much information can create anxiety.
Keep them busy. Help them understand that even though life is limited during this time, there are still plenty of things to enjoy.
Virtual Things to Do With Children:
Check out your local library's Facebook page. Libraries are currently closed, but many are offering story time and educational opportunities through their Facebook pages. Fulton County streams a storytime at 11 am each morning on

Facebook. Gwinnett County also has storytimes on their

Facebook. Find Cobb County's storytime on their

Facebook.
Zoo Atlanta is closed, but their

website

offers YouTube videos featuring animals, animal tales and things to do.
Take your children on a Friday field trip on their

website. Field Trip partners include the Atlanta History Center, Breman Museum, Chick-Fil-A College Football Hall of Fame, Fernbank, High Museum of Art and more.
Celebrate Earth Day by building a Lego planet. Check out #LetsBuildTogether on Facebook.
Check out the Kennedy Space Center Visitor Complex on Facebook for more great activities.
NASA has a Teachable Moments

series

full of STEM engagement activities.
There is a Scholastic Learn at Home

program

with various age-specific programming.
The San Diego Zoo has coloring pages and arts and crafts on their

website. There is also a butterfly webcam!
Sign up on

PBS Kids

for daily activities and tips for learning and play.
Check out the California Science Center's Stuck at Home Science

program

for daily activities.
Preschoolers can find animated games, videos and more about spacefaring cadets at the

Stardust Space Academy. Includes whole family fun.
The National Wildlife Federation is offering Ranger Rick

online subscriptions

for free through June.
Ideas to Help Others:
Make creative cards to send to older family members.
Make a sign to put in the front yard thanking health workers, sanitation workers and other essential employees.
Leave a package of food on the front porch of an elderly neighbor.
Bake cookies for the postal carrier and sanitation workers.
Do yard-work for elderly neighbors, while still keeping your distance.
Safety While Self-Viewing Homes
If you are searching for a new place to call home, limit your exposure by taking steps:
Only go to homes you feel strongly about.
Take lysol wipes and hand sanitizer, and wear disposable gloves if you have them.
Wipe the lockbox and doorknob before touching.
Wipe the key before using.
Avoid touching surfaces in the home and wipe any before touching.
Secure the home, wipe the key with a lysol wipe and place in lockbox.
Wipe the lockbox before you leave.
Sanitize your hands before getting in your car.
Avoiding COVID-19 Scams
Information provided by the FTC:
Hang up on Robocalls.
Ignore online offers for vaccinations and home test kits.
Fact-check information.
Know who you're buying from.
Don't respond to texts and emails about checks from the government.
Don't click on links from sources you don't know.
Watch for emails claiming to be from the CDC or other experts.
Do your homework when it comes to donations, whether through charities or crowdfunding sites.
Read more in-depth here: www.consumer.ftc.gov/features/coronavirus-scams-what-ftc-doing.
Disclaimer:
At Compass, we strive to provide the most up-to-date and accurate information. However, we cannot guarantee the accuracy of the information provided in such rapidly changing times. We strongly encourage you to follow the links, conduct your own research, and determine your own best actions. Compass does not purport to be experts or official advisors in any capacity regarding the COVID-19 pandemic. We review the information and consolidate it for our readership. Compass is not responsible for any out of date, or inaccurate information provided. We will make every effort to correct errors brought to our attention.