About Compass
A business is made stronger with passion, trust and empathy. At Compass, we pride ourselves on being a woman-led company. Experience is our backbone. We all have a story and a background that shapes us. Our president, Theresa Mull, has worked with people of different backgrounds for many years as a crew member in the cruise industry. Traveling and working with people around the world, she has learned valuable lessons that she passes onto her staff on a daily basis. There's a quote by Henry Miller that says "One's destination is never a place, but a new way of seeing things."
After the decision to leave the cruise industry, Theresa moved to Florida where she became a licensed real estate agent dealing in million-dollar single-family homes. She continued her real estate career once she moved to Georgia. She saw a rising trend in clients who were interested in using real estate to expand their investment portfolios. Utilizing this knowledge, a career emerged in managing single-family homes and eventually multi-family complexes.
Why Compass?
Beyond our services, we want to understand what you need from us. With the Compass Property Management Group, know that your property will be managed in an effective and professional manner. We share a common goal: to get the best return on your investment. We provide a clear plan to maximize your income and provide ongoing communication with you. Let us manage your investment the Compass way. If you have questions, contact us today for a free, no-obligation consultation.
We Put Our Experience
to Work for You
We've helped countless homeowners to get more from their metro Atlanta rentals; we put our extensive experience to work to help generate great results for you.
Our Team Provides
Ongoing Support
Need help with your pressing challenges? Look no further than the Compass Property Management team. We work tirelessly to provide helpful support.
24/7 Online Portal
Access
Our online portal system provides instant access to your rental account at any time. View your statements, account notes, and more. Just sign in to get started!
Discover Our Services
Let the experts keep your Atlanta home operating efficiently. Our strategies increase desirability, enhance investment value, and maintain the financial success of your property.
Lengthy vacancies cause thousands in lost revenue. Say goodbye to stress with our team working for you. We aggressively publicize your listing & show your home.
Every application we receive undergoes rigorous screening, and we only place highly-qualified applicants. This approach helps us ensure your home is in the best hands.
Still chasing after late payments every month? Let our team take charge of your monthly billing needs. We collect funds for you, follow up as necessary, and impose late penalties.
A proactive approach to rental property maintenance is essential to preserving your income. We respond to maintenance requests quickly & make sure work is completed correctly.
Property inspections give us an opportunity to check on your home and renters. We verify that there are no hidden problems & that tenants are respecting the terms of their lease.
As our client, you enjoy detailed financial reports each month, which document all earnings and expenses for your home. Sign into your account at any time to take a look.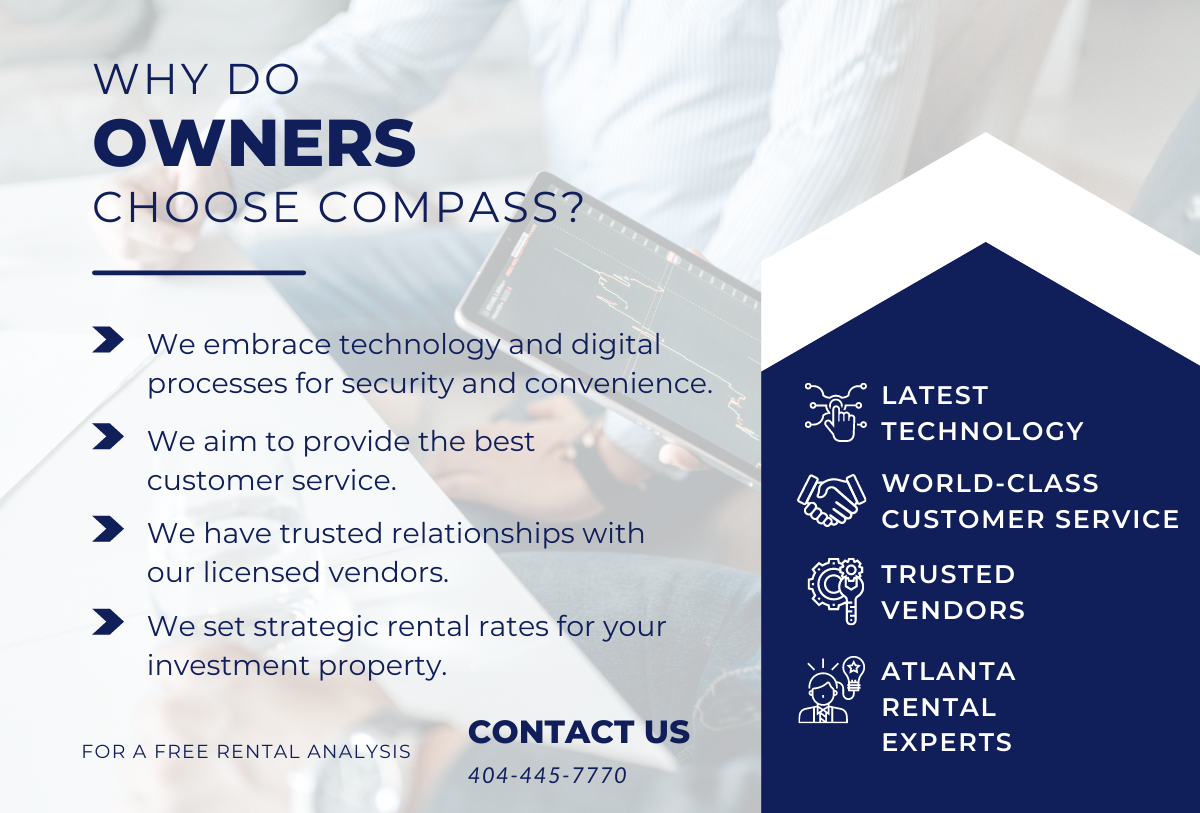 We take care of your investment
—

so it takes care of you.

Compass Property Management Group is a full-service property management company that makes available the following services to property owners and investors: marketing, tenant application and screening, leasing, turnovers, maintenance coordination, rent collection, accounting, and more. Our organization is dedicated to fulfilling the highest level of service to meet the property management needs of real estate owners and investors in Greater Atlanta and the surrounding area.

We understand what's required to make sure your property is handled properly to ensure your investment is protected while providing you with stress-free ownership. We take pride in being professional and trustworthy in everything we do and we know you'll love how we treat you, your residents, and your property.
Our Mission Statement
With our big picture mentality, our experienced full-service property management team aims to deliver our clients lasting results while maintaining integrity, full-transparency, and harmony.
Know the Client
At Compass, we believe the most important step is getting to know you and what you need or want from your investment. Cultivating professional relationships with our clients is key to developing a successful property management strategy.
Know the Tenant
Compass screens applicants to help you find a quality tenant. Once a renter is procured, we begin to develop working relationships based on good faith and trust through open communication and quick responses to renters. A satisfied resident is an important factor in the management equation.
Know the Property
Properties need to be safeguarded. At Compass, we have established relationships with qualified professionals who can provide quality service when the need arises.
Proper maintenance on your investment keeps it attractive to tenants and helps maintain or increase your property's value.
Meet Our Team
Alex Delaney
Property Manager
Jasmine Allen
Operations Manager
Ashley Fail
Senior Accounting Manager
Sylvia Leong
Digital Marketing Director
Cree Fajardo
Assistant Property Manager
Maika Mendoza
Accounting Specialist
Jennifer Bayotas
Accounting Specialist Assistant
Bea Grace Sumabong
Accounting Specialist Assistant
Leslie Go
Leasing Specialist
John Michael Plazuela
Leasing Specialist
Decelyn Libunao
Leasing Specialist
Jenny Endino
Leasing Specialist
Sam Bernales
Leasing Specialist
Jamie Sotelo
Maintenance Coordinator
Neldy Beatingo
Maintenance Coordinator
Stephany Calzado
Maintenance Coordinator
How Much Will My Home Rent For?
Correctly pricing your rental property is crucial to maximize your portfolio's potential. Retain excellent renters longer and enjoy more income with the perfect price. Begin with a free, no-obligation rental analysis today.
Experts will review your property
Boost your
Profit