The Metro Atlanta area is booming. Already home to 16 Fortune 500 companies and 30 Fortune 1000 companies, Atlanta continues to grow and is seeing a particularly well-fueled growth spurt due to the continuing Beltline Project.
The 2019 GDP was $371.83 billion for the Atlanta Metro area. Spurred by international investors, Atlanta is home to 2.6 thousand foreign-owned establishments. In 2018, 1,746 businesses were added to the Atlanta Chamber of Commerce. Home of the busiest airport in the world, Atlanta's Hartsfield-Jackson International Airport serves 150 U.S. destinations and more than 50 countries with 75 international destinations.
Atlanta has been ranked #1 for eight consecutive years by Penske for quality of life and has an award-winning business climate. Dubbed "The Silicon Valley of the South," Atlanta is fast becoming an established technology center. Why do all of these factors affect property investors? A thriving economy brings growth opportunities and growth opportunities mean prospective tenants with funds and housing needs.
With the ongoing Beltline project, inner-city neighborhoods are beginning to experience a boom. The Beltline is a 22-mile loop designed to connect communities and commerce. With walking and bike paths, affordable housing, and work/play/live areas, this project is scheduled for completion before 2030. A great area to invest in, the Beltline will promote growth in the heart of Atlanta and is already creating a significant increase in housing values.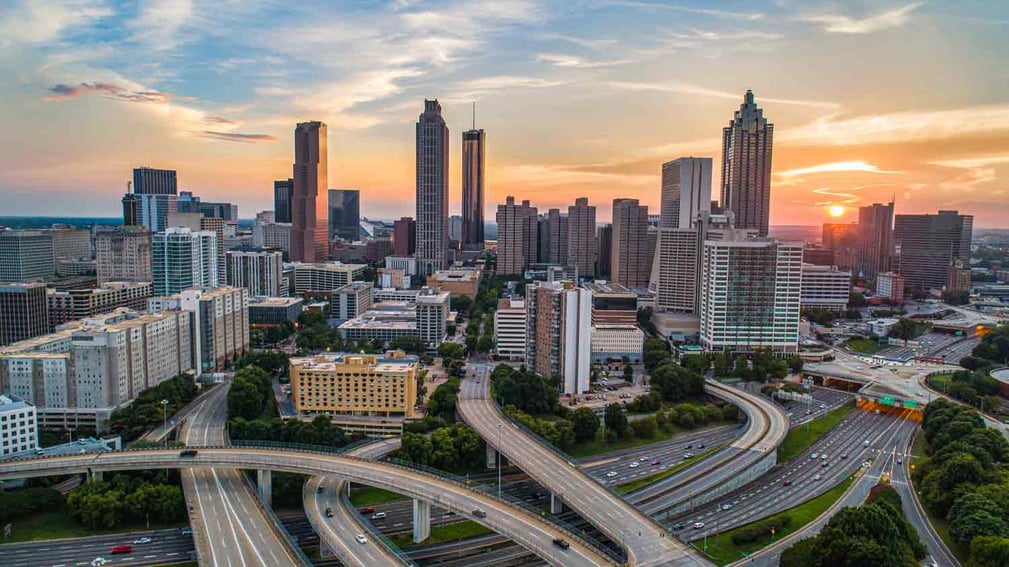 Different Areas
Northside Trail: Located in the Lindbergh/Buckhead area is a 3-acre plot recently purchased specifically for the Beltline Project. Portions of this plot will be utilized to connect the Northside Trail to the Lindbergh Marta Station and Path 400 Terminus. The Northside Trail is a well-utilized 2.2 mile trail that winds through Tanyard Creek Park, runs next to Bobby Jones Golf Course, and offers picturesque views. Construction is ongoing, with a completion date no earlier than 2026, giving investors plenty of time to determine areas for investment.
The Lindbergh area is full of high-end condos. While deals can still be found, the average price is $451,019 with the average rent in the mid to upper $2000s. HOA fees usually apply. Buckhead is even more exclusive, with homes running over a million. But condos and some homes can still be found in the 30305 zip code where the average home price is $563,998.
Northwest Trail: Starting at Huff Road, on the west side of Atlanta, this 4.4-mile trail connects with the Northside Trail at Peachtree Creek in Southern Buckhead where the average home price is $414,602.
Eastside Trail: This two-mile trail spans from 10th Street and Monroe Drive to Irwin Street, connecting Piedmont Park, Atlanta Botanical Garden, Historic Fourth Ward Park, the Stone Mountain Trail and Freedom Park. This inner-city area has a range of prices, with upscale homes around the Piedmont Park/Ansley Park area running from the upper $200,000s into the multi-millions. The Ansley Park area averages $351,957, while the Fourth Ward Park area averages $396,211. Rental prices also have a wide range.
Westside: This section of the Beltline connects job centers and other development activities with a 280-acre park planned along the Bankhead border that will surpass Piedmont Park as the largest Atlanta park. While generally a low-income area, homes have jumped by 19.5% over the last year with the average price at $230,922. Rents are low but have started climbing into the $1200-$1500 range. Once the Beltline project and the park are completed, it is expected that this area will see more interest.
West End, located at the Beltline's southwest trail and including the West End Marta Station, is home to the Mall West End which is slated to become a $300 million mixed-use space including offices, homes, restaurants, shopping and hotels. While a for profit venture, funding includes training and small business lending assistance designed to create jobs, which will, in turn, fuel housing needs.
Nearby Mall West End is the Lee + White warehouse district, which has plans to open doors in 2022 on a new food hall with a gateway to the Westside Trail. Plans are underway to refashion industrial space into creative loft offices, with another planned office complex close by.
Historically a depressed area, the Beltline is setting a new standard and increasing the quality of life in the West End area. Average home price: $279,332. Value increase over the past 12 months: 15.9%. Average rent estimate: $1550.
Southside Trail: Traveling through East Atlanta Village, Ormewood Park, Chosewood Park, Mechanicsville and South Atlanta, the Southside Trail of the Atlanta Beltline currently operates as an unpaved, interim trail connecting the Eastside and Westside trails. But construction is underway and the first segment is expected to be by this summer. This portion of the Beltline includes Grant Park and Zoo Atlanta. Phase One includes the adaption of a commercial village of small businesses and green space. Two future phases are in the planning stages.
The Southside Trail runs through several middle to lower-income neighborhoods, making homework a necessary part of evaluating homes in this area. The Mechanicsville area homes have increased in value by 7.4% in the past year making the average home price $320,025. East Atlanta homes average $320,025 while Candler Park homes run in the mid $500,000 range.
For information about real estate near the Beltline, check out the map and connecting links to homes for sale. Happy house hunting!
---