Author: Alex Delaney
The time to increase your rent potential is during a vacancy. How? Make sure your property compares favorably with your competitors' properties. Be aware of what is going on in the area and what the local rental levels are. And most importantly, consider renovations and upgrades to keep your property competitive.
Many factors go into setting a rental amount. At Compass Property Management Group, we look at various factors regarding the property and compare the home to similar properties in the area. We check the ads for other rentals and set the rent based on these factors and how the property presents.
To get to the rental rate we evaluate:
1) Square footage
2) Number of bedrooms
3) Number of bathrooms
4) Existence of bonus rooms
5) Condition of property
6) State/age of appliances
7) State of kitchen and bathrooms
If a property lacks curb appeal and has outdated kitchens and bathrooms, we will have a hard time renting it at high market value. Our goal is to get your property rented at the highest possible rate as quickly as possible. Every month that the property sits empty is a month without rental income. So lowering the asking rent may make sense as the minimal reduction is more than offset by a month of rent.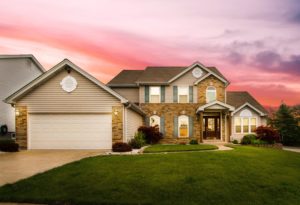 To increase the potential rental income of your property, consider a few of the following low-cost strategies to improve the income potential.
1) Curb Appeal: Increase the interest in your property by getting people in the door. Paint the front door a contrasting and pleasing color. Consider landscaping. Sometimes it is just a matter of trimming back overgrown hedges.
2) If your property is in an urban setting, consider adding smart technology such as a Ring or Ecobee thermostats or keyless entrance pads. These kinds of upgrades appeal to younger generations who grew up using technology.
3) Update the kitchen. This does not have to be a huge expenditure. You can give the kitchen a whole new look just by switching out the fixtures. Also, consider painting the cabinets for a fresh feel.
4) Update the bathrooms. As in kitchens, updated fixtures and cabinet hardware can change the whole appearance.
5) Paint. A fresh coat of paint does wonders for the look of a room. Use neutral colors and consider painting baseboards and trim in a contrasting, or monochromatic color with a washable satin or gloss finish.
If you are interested in increasing the rent potential, call our maintenance department to discuss what upgrades make the most sense for your property.